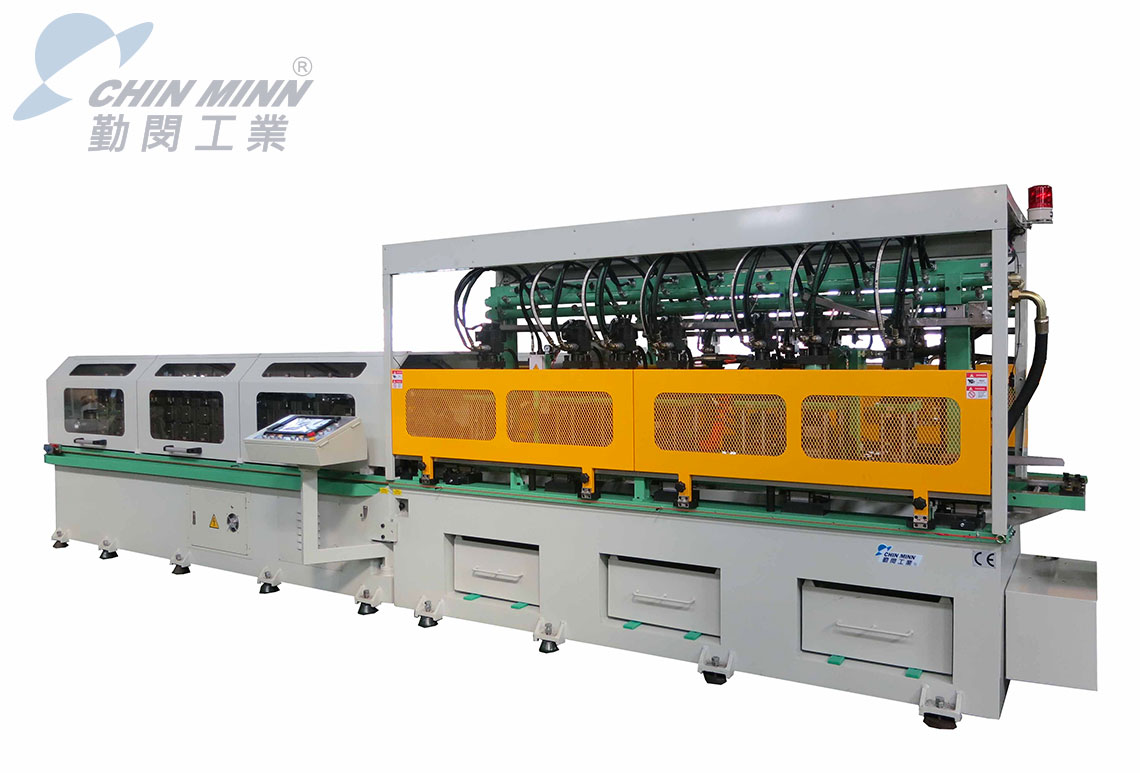 Product Name : Multiple Hole Punch Station slides roll form machinery
---
Manufacturing Process:
Uncoiling → Guiding → Roll Forming → Straightening → Multiple Stands Hole Punch → Cut-off to length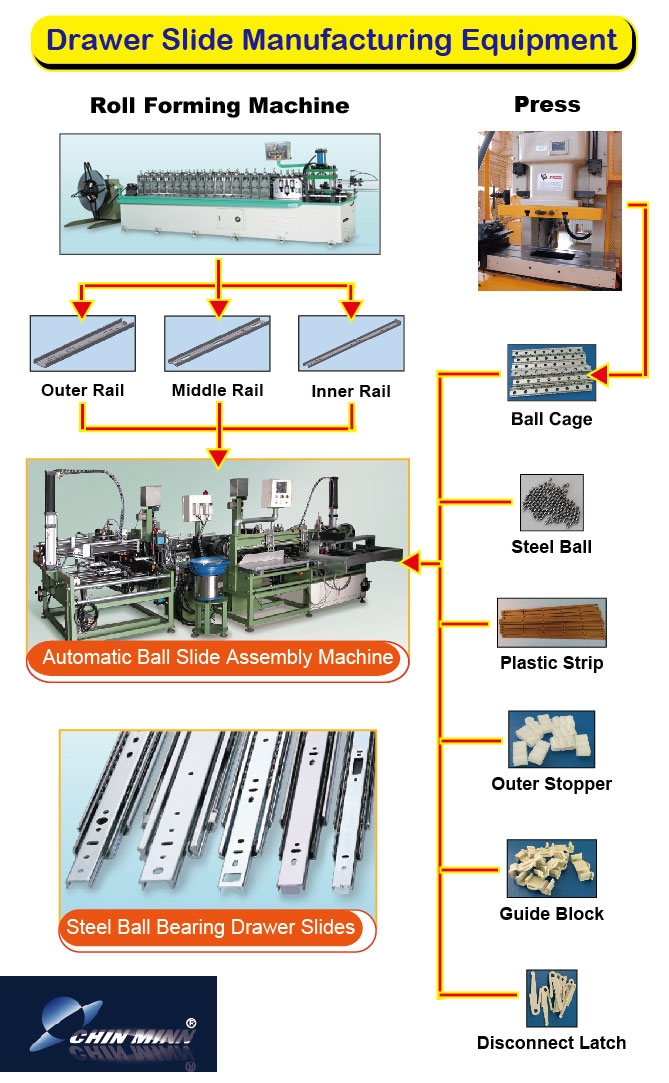 ---
Automatic multiple hole punch drawer slide machine Layout:

---
Description:

Chin Minn is the drawer channel roll forming equipment manufacturer from Taiwan. We committed to three main kinds of drawer slide roll forming machine: Standard, Heavy duty, and multiple hole punch type to roll form various types of slide rail such as 2-fold ball bearing slide, drawer channel, undermount drawer slides, and tandembox slide etc. The production line of roll forming equipment is customized according to specific requirements. Our experienced engineers contribute passion in developing unsurpassed drawer slide machines to satisfied customers from all over the world.
This multiple stands hole punch roll forming system has been precisely built, which will roll form rail profile with precise tolerance. This multi-hole punching stations on drawer slide machine provides automatic hole punching, which can punch majority of holes on 3-piece full extension slides, drawer runners, and telescopic channel slides etc. For instance, flat holes, extrusion, notch, cut-out, and bending can be done on this type of machine that reduces secondary punching operation on press. Therefore, more customers pick this type of roll forming machine to reduce manpower and secondary machinery cost. This multiple hole punch roll forming production lines are widely used in producing furniture fittings drawer slides for kitchen cabinets, office supplies, and industrial usage. Chin Minn can manufacture drawer slide making machine according to your drawer runners profile, design, and requirements.
We also offer CE certified drawer channel runners,undermount slide rail, and drawer slides roll forming machines upon clients' request.
Please contact us for further product info~ 
---
Specification:
| | | |
| --- | --- | --- |
|   | Major Components | Quantity |
| 1 | Machine Base | 1 set |
| 2 | Roll Forming Stand | 10 ~ 25 stands |
| 3 | Roll Forming Speed | 3 ~ 10 meters |
| 4 | Punch stands | 3 ~ 8 sets |
| 5 | Punch and Cut-off Die | 1 set |
| 6 | Hydraulic Power Pack | 1 set |
| 7 | Coolant system | 1 set |
| 8 | Single Head Decoiler | 1 set |
| 9 | Length Cut-off Device | 1 set |
| 10 | Rail leaving device | 1 set |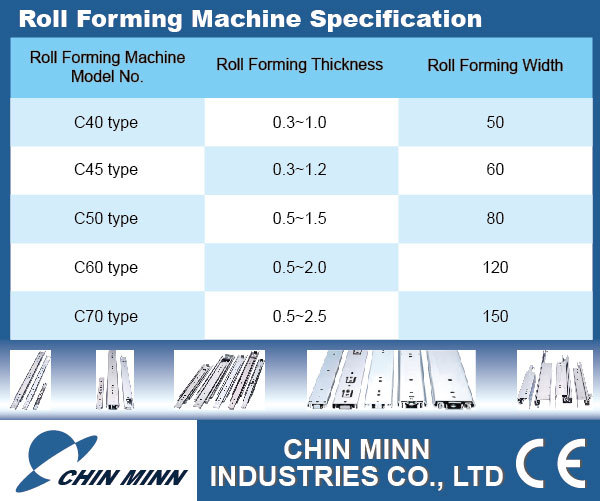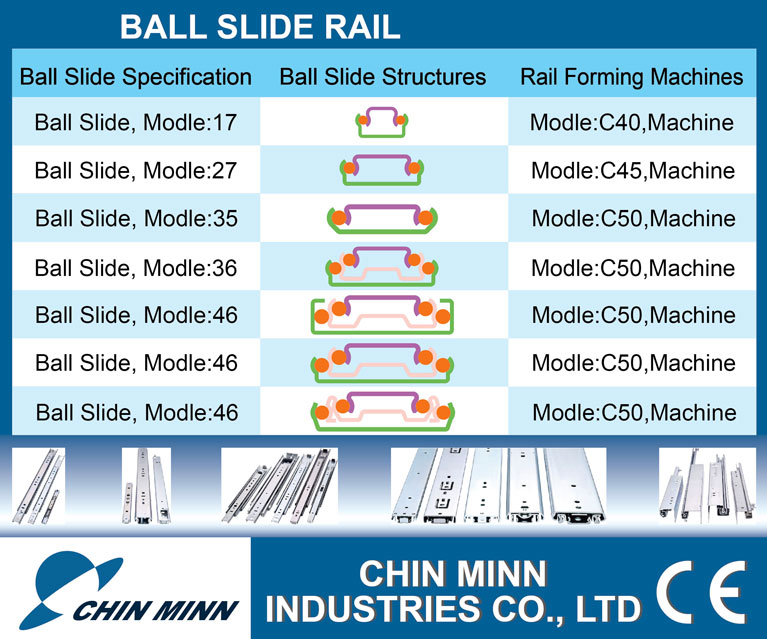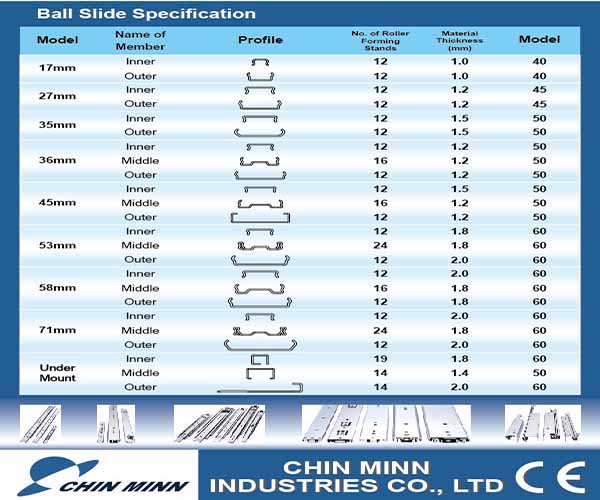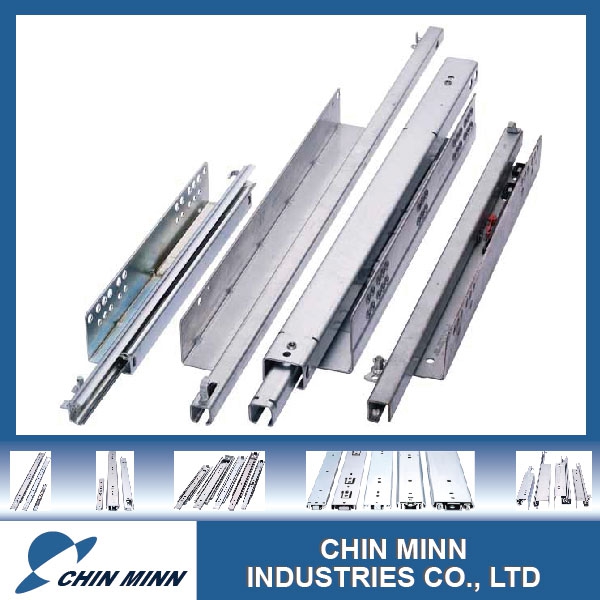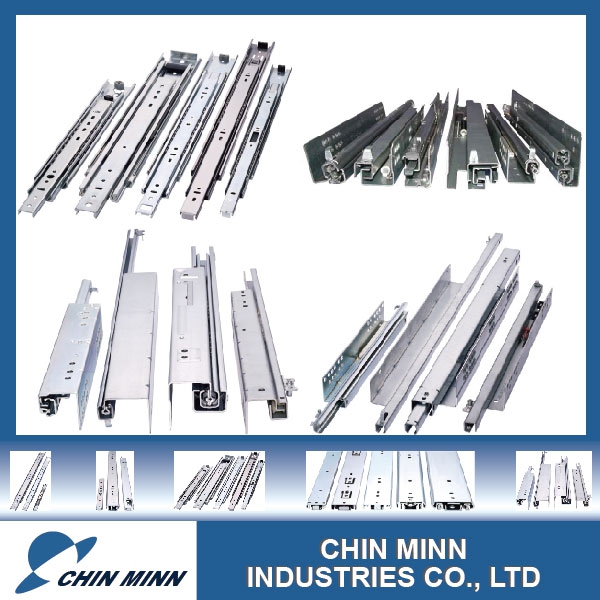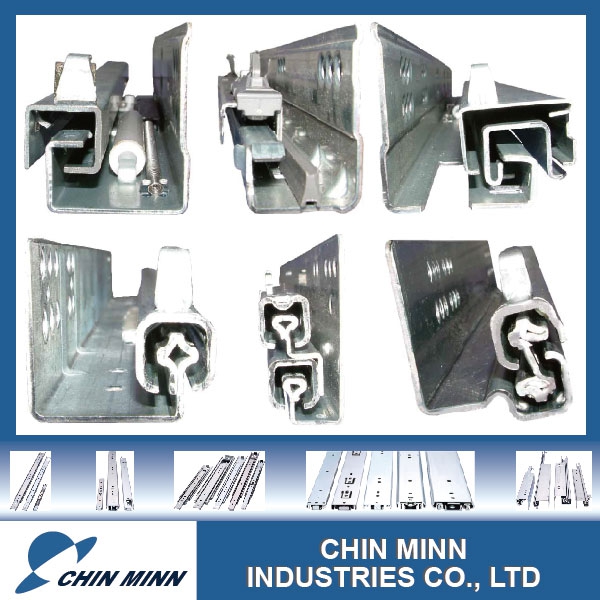 ---
Product Videos: