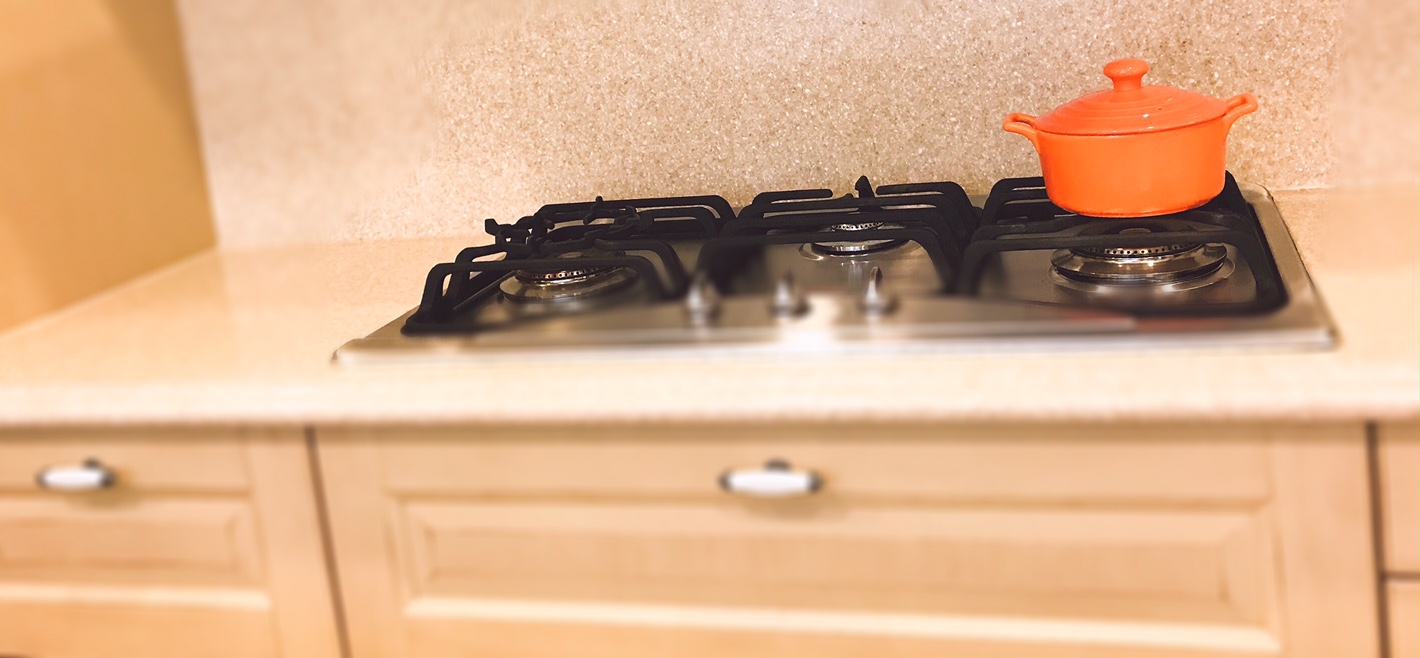 Interior design ideas are released every year; various choices are difficult to make. Since remodeling a space is a huge task, being hygienic and useful are more important than adding trendy elements. Whether you are remodeling or decorating your kitchen, here are some advising tips for personal design. Key points of creating a trendy kitchen are easy to maintain, practical, and timeless. 
White has always been the top choice for kitchen cabinets, which is beautiful and delightful but hard to maintain. Since white cabinets turn yellow easily and grease stains are hard to be removed (Dietrich), gray has become the alternative choice for kitchen cabinets (Choe). It is not as dark as black but easy to clean. However, gray is tricky, which it appears frozen in cold climate; on the other hand, it turns out to be a 'breath of fresh air' in hot and humid climate. Therefore, the solution is to pair it with warm furniture appliances like wood material, or hot colors like reds and yellows for your utensils and chairs to create a light-hearted space (Gordon). Another element in kitchen that requires high maintenance is countertop, where one has to be very careful on choosing the material for countertops. Although marble and granite have been dominating the countertop materials as the top choice, they require regular sealing, which are high maintenance items in the kitchen (Divine design+build). Choosing an easy-to-maintain engineered stone countertop might solve the problem because most engineered countertops are made by quartz, which looks like natural stone materials and requires less care on sealing (Countertop guides). It is a better investment in the long run.
Why is customized product so popular today, because it improves quality of life? Custom-made services provide what you want and can be installed everywhere you need (Gordon). For instance, "Homeowners are customizing their cooling needs with 'point of use' refrigeration, adding cool where they need it (Gordon)." Adding a counter-height fridge for kids to store beverages and ice cream; separate these snacks from raw vegetables and food. The idea, "point of use", represents the spirit of custom-made service because various drawer slides are designed for different purposes. When full extension drawer slides apply to deep pocket drawers, it allows user to reach the back of the drawers easily. Smooth sliding telescopic channel slides with soft-close design bring down the noises when opening and closing drawers. Fine furniture appliances shall pair with smooth drawer slides and dampers to meet the quality of life.
The idea of customized fridge is like our customized drawer slides roll forming production lines that we design roll forming machines according to clients' needs. Customized products require a higher level in skills and experiences, which ChinMinn is capable of making a complicated design of hidden drawer slides roll forming production lines. Our drawer slides machines are made with high quality and technology to achieve a smooth, stable, and efficient roll forming system. It is more than what you can imagine because quality is defined in every detail!
Usefulness never goes wrong because it is the most timeless design to meet the criteria of a user-friendly kitchen. Adding some trendy elements might bring a fresh look in kitchen. However, don't forget to keep one's personal style, and add items one truly loves to meet one's demand. 
---
For more articles, please see:http://chinminntw.blogspot.tw/